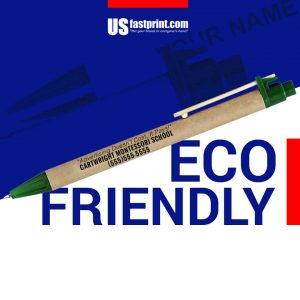 As a marketer, it can be tough to find eco-friendly promotional items that speak to your key audiences and that are reflective of your organization's commitment to sustainable choices. When you want to build bridges between your brand and eco-conscious consumers in your target market, USfastprint offers a solution with a side of sustainability.
Sustainability is a growing concern for Generations X, Y and even the Millennials, who have been accused of putting "self" first.
They're eager to do business with organizations that share their point of view. To endear yourself to those who value social and environmental responsibility, you need to think green. Eco-friendly promotional products may be a step in the right direction.
With such a High demand for environmentally safe products, we are proud to introduce something new to our growing line of recycled, biodegradable and Earth friendly products!
Introducing the new Bamboo Click Pen!
The barrel of this pen and the Click button are made entirely of bamboo!
Each pen also comes with a durable metal pocket clip!
…At the top of the barrel on each pen there is a GREEN 100% BAMBOO SYMBOL
Laser engrave your brand or promotion on these pens and let everyone know you are doing your part to GO GREEN this year!
Remember, along with the most competitive pricing in the industry,
We also offer free rush service, and free shipping on orders of $75 or more!
Put your brand in everyone's hand with Usfastprint.com