Its Spring. Finally! You know what that means? Festival Season!

Kinds of Festivals that we are looking forward to…
Beer Festivals
Whether you consider yourself a craft beer aficionado, or more of a person who stands by their classic American ales, beer festivals are a great opportunity to be outside in sunny weather, try brews from all over, and socialize!
Even if you do not drink, there are often a large variety of food vendors that come to these festivals, so there will be no shortage of things to do.
If you have ever been to a beer festival, you probably remember showing up with empty hands and an empty stomach, and leaving with hands full of promotional items and a full stomach. This is not by accident! The biggest goal of all of the beer vendors who pay money for stands at festivals is to market their beer and their business.
What better way to do this than by using promotional items? The last festival I went to in San Diego, "the craft beer capital of the US," I walked home with dozens of stickers, logoed cups, bottle openers, koozies, and much much more!
To this day, almost 6 months later, I am still seeing all of these items throughout my house! These breweries did a great job putting their brand into my home, even when I am not thinking about them!
At USfastprint.com, we offer a variety of promotional products that would be PERFECT for advertising your brewery at the festival or for a festival company to advertise the festival as a whole. Take a look!
This is our ABWR, a curved, solid-aluminum bottle opener with a key ring!
An inexpensive and classy promotion!
Shop now! As low as $0.40/peice

How about this? Our SNOP a fidget spinner AND 2 bottle openers! 
A fun way to entertain all festival goers while promoting your brand!
Shop now! As low as $1.10/peice
This beverage coaster with built in bottle opener is a great way to advertise your brand with functionality!
Shop now! As low a $0.90/peice
Our neoprene can coolers. Beat the heat and keep your customer's beverages cold!
Shop now! As low as $0.86/peice
---
Wine Festivals
Don't consider yourself a sommelier? That's OK! Wine festivals are a great way to enjoy the fresh air and treat your taste buds to some vino!
These festivals take place all over the country, and are often family-oriented so that there are plenty of ways for everyone to enjoy the festival even if wine is not on the menu. Many are accompanied by live musical performances, food vendors, and even some smaller carnivals games and rides for children.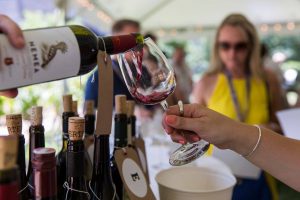 There is so much variance in styles and types of wine festivals that you are sure to find one that fits your needs.
As an attendee of wine festivals, you are bound to leave with hands and bags full of promotional items without even realizing it! Like beer festivals, wine festivals are aiming to promote their brand to everyone in attendance!
Check out these great promotional products!
Our Wine bottle opener is a functional and effective marketing tool for wine vendors!
Shop now! As low as $1.08/peice
Our polypropylene 2-bottle wine bags are quintessential promotional giveaways at wine festivals!
Shop now! As low as $1.29/peice
---
Music Festivals
Coachella. Stagecoach. Lollapalooza. Burning Man. Bonnaroo. Some of the biggest names in music festivals are coming right up! With so much variety in styles of music available, there is sure to be a music festival that pleases even the most picky music-lover.
With an almost unlimited amount of entertainment, food, drink, people, and music, these festivals are a great time to promote your brand to mass amounts of people!
If you are a business with a mission that resonates with the concert goers, you can have an effective marketing campaign with the right promotional product giveaways.
Check these out!
These two-toned sunglasses are the perfect promotional item for those sunny days. UV-400 rated!
Shop now! As low as $1.88/peice
It's gonna be hot out there! These nylon fans give you a HUGE imprint space while keeping all concert goers cool!
Shop now! As low as $0.60/peice
Keep the attendees hydrated while they dance all night long! These custom printed sport bottles are sensible and functional giveaways!
Shop now! As low as $1.50/peice
---
Thank you for reading!
Stay tuned for our next blog post another event/occasion to use promotional products. The opportunities are endless!
Put your brand in everyone's hand at USfastprint.com!